Staff,

Volunteers & Board

Umbrella Studio has a small but amazing team of staff, strong governance from an engaged board and active participation in its thriving membership and volunteer program. Furthermore, Umbrella is committed to engaging interested individuals in all facets of the organisation, including supporting and contracting artists, writers and curators.

Staff
Kate O'HaraDirector

We are thrilled to announce the appointment of new Director Kate O'Hara in January 2020. Kate is a driven and hardworking arts professional with over 15 years industry experience in institutional, not-for-profit, commercial and independent arts environments. She takes an innovative and thoughtful approach to her work and enjoys the rewards of challenging and multifaceted work places.

She has a proven track record in growing arts organisations in the not-for-profit sector as well as improving returns to artists and growing recognition for artistic movements. Kate specialises in working with regional arts communities and with First Nations peoples.

Most recently Kate managed Maningrida Art & Culture, a large and prestigious Indigenous art centre in Arnhem land. Previous to this Kate worked with a number of arts organisations in South East Asia, including Romeet Contemporary Art Space in Phnom Penh, Cambodia as their inaugural Curator and Manager.

She particularly enjoys working with diverse contemporary art communities and assisting with developing innovative programs to grow artist platforms and community engagement.

Alan MarloweBusiness Manager

Alan studied New Media Arts at James Cook University before he was offered the Business Administration traineeship position at Umbrella (2011). The course gave Alan a great foundation of knowledge of the arts industry and history, and linked him to various contacts in Townsville including artists, educators, and media. Alan has done a lot of volunteer work at different events in the arts community, like the Strand Ephemera public sculpture show, and has been a resident artist at Studio2 Gallery.

After Alan finished his traineeship with Umbrella, he was offered the permanent position of Business Support Officer, then later when our Business Manager left, was given the role of Business Manager.

When Alan is not at work, he likes to teach body balance, draw, take photos and attend social events. He also likes to keep fit and healthy by getting himself to gym or up castle hill after work, and does yoga most Sundays.

Daniel QualischefskiGallery Manager

Daniel came to Townsville with a wealth of experience from Toowoomba (and the surrounding regions) and Melbourne where he worked across exhibitions, public program coordination and collection management at various art galleries. Daniel holds a Master of Arts and Cultural Management from the University of Melbourne and degrees in visual arts from the University of Southern Queensland. He is passionate about contemporary art, making art accessible and engaging audiences. Daniel is a practising visual artist, often working under the pseudonym of Danish Quapoor.

Tenielle EdmondsonPublic Programs and Retail Assistant

Tenielle Edmondson joined the team at Umbrella as the Public Programs and Retail Assistant in May 2021. She teaches part time around local state schools and studies Visual Arts at TAFE. She believes everyone is an artist and that the arts should be accessible to all. Tenielle enjoys travel, painting, photography and is delighted to be immersing herself more in the Townsville art scene.

Madonna DaviesNorth Queensland Regional Arts Officer (RASN)

Madonna Davies services the North Queensland region for the Regional Art Services Network (RASN). In this capacity, she is hosted by Umbrella Studio.

Madonna has a Bachelor of Theatre from JCU with an Acting Major. She has worn many hats as a NQ community arts worker and professional artist over the last 30 years. She is the President of Full Throttle Theatre Company, the Festival Coordinator of the Palm Creek Folk Festival and Secretary of the Townsville Folk and Acoustic Music Club. She also sings in two local bands and coordinates monthly Open Mic Nights.

Lynn Scott-Cumming(Volunteer) Studio Facilitator

Lynn Scott-Cumming is an active artist, longstanding Umbrella member and volunteer, and a leader in the Umbrella Studio Access Group (USAG). Lynn and Margaret Robertson have been appointed by Umbrella Studio to supervise the makerspace downstairs (in conjunction with the Gallery and Media Coordinator), particularly with regards to the printmaking presses and processes.

Margaret Robertson(Volunteer) Studio Facilitator

Margaret Robertson is an active artist, longstanding Umbrella member and a leader in the Umbrella Studio Access Group (USAG). Margaret and Lynn Scott-Cumming have been appointed by Umbrella Studio to supervise the makerspace downstairs (in conjunction with the Gallery and Media Coordinator), particularly with regards to the printmaking presses and processes.

Amanda GaleaFestival Administrator

Amanda Galea has commenced in the new role of Festival Administrator for Pop Up North Queensland (PUNQ) as of February 2021. You may remember Amanda from when she began as Umbrella's Business Trainee in August 2020. Amanda holds a Diploma of Visual Art from TAFE NSW Albury.

VolunteersReception Assistants, Gallery Assistants, Exhibition Install Assistants and Interns

Umbrella acknowledges the support of our amazing volunteers, particularly given our relocation and larger footprint (requiring more reception assistance). During 2019 - 2021 we have been assisted by: Alison McDonald, Alison Nicholas, Althea Harding, Antonia Hiltmann, Damara Hollyman, Evie Hanlon, Gail Pearson, Geoff Thomson, Graeme Buckley, Irene Rae, Isabella Shatte, Jan Hynes, Jason Hall, Kaz Hauser, Karen Ihrke, Katya Venter, Lynn Scott-Cumming, Margaret Robertson, Marion Gaemers, Maxine Smith, Michelle McGuinn, Nigel Matejcic, Regina Andreassen, Rhonda Stevens, Rosie O'Hearn, Sascha Millard, Sandi Hook, Saskia Ihrke, Sharna Lee-Jarvis, Sharon Saverin and Yvonne Dutton.

We also occasionally facilitate internships for those interested in the gallery world to gain valuable skills and insights. During 2019 - 2020 we have had support from the following interns: Annelise Pretzch-Kalsgaard, Lauren Rosel, Bronte Perry and Taryn Laporte.

If you are interested in volunteering or completing an internship with Umbrella Studio, see here: Volunteer
Board of Management
Ann RoebuckPresident

A journalist for 36 years, Ann was elected to the Umbrella board six years ago and is currently serving her second term as President. Ann recently retired after working for News Corporation for the previous 19 years. Her career included working in newsrooms across regional Queensland, including as Editor of the Gladstone Observer, Deputy Editor of the Townsville Bulletin and Managing Editor, North Queensland, overseeing 12 mastheads between Port Douglas and Bowen.

Alan CarpenterVice President

Alan's career in recent years has been centred within the the resources and tertiary education sectors. He has led complex projects transforming corporate vision to reality - negotiating the difficult terrain between idea and execution. Alan is a freelance strategist, Treasurer for Townsville Multicultural Support Group and is nurturing a late career as a 3D artist practitioner.

Michael PopeSecretary

Michael is a practicing artist, arts worker, and high school Visual Art and Japanese teacher in Townsville. He holds a Bachelor of Visual Arts and a Postgraduate Diploma of Teaching and Learning. Within the museum and gallery sector, Michael has formally worked for Rockhampton Art Gallery, International Arts Services, Jan Murphy Gallery as well as Exhibition Officer at Museum of Brisbane, and Public Programs and Education Coordinator for Perc Tucker Regional Gallery and Pinnacles Gallery. He is a co-founder of Urban Sketchers Townsville.

Brian Tucker CPATreasurer

Brian has 36 years' experience as an accountant and auditor specialising in the arts including as treasurer for many organisations during this period.

Stephen NaylorBoard Member

Currently the Chair of the Academic Board at James Cook University, Professor Stephen Naylor has had more than 35 years working in the visual arts and higher education. He has an understanding of contemporary art practice from a practitioners perspective (as an artist with 20 years of practice), an arts educator (having taught art history and sculpture in Universities for more than 25 years) and as an international arts reviewer for national arts journals (over the past 20 years).

Sheree KinlysideBoard Member

Sheree has more than 30 years experience with community, group and solo exhibitions in and around Townsville. She holds a BA (fine arts/marketing), is a founding member of PressNorth Printmakers and has served on several RADF committees.
Sheree also operates a Letterpress and print studio in Townsville and is director of North Qld Letterpress Collection.

Sarah SullivanBoard Member

Sarah Sullivan is a communications and marketing consultant and founder of Inkbyte Communications, a strategic creative agency based in Townsville. Sarah has extensive experience in communications and marketing, working at senior levels within the public and private sector and in recent years as a consultant with various industry and consumer clients. She is an experienced strategist and operational driver, with a passion for helping businesses deliver engaging and authentic experiences.

Lydia RiganoBoard Member

Lydia is a clinical psychologist and small business owner who has called Townsville home for around 20-years. She contributes strong skills in governance and communication to the board, having previously been on non-profit boards.
---
Role of the Board of Management
The Board's overall role is to govern the organisation rather than manage it. It is the purpose of the Director to manage the organisation in accordance with the direction of the Board.
In general, the Board is responsible for, and has the authority to determine, all matters relating to the policies, practices, management and operations of Umbrella Studio Association Inc. It is required to do all things that may be necessary to be done in order to carry out the objectives of the organisation. The Board has the final responsibility for the successful operations of the organisation. Without intending to limit the general role of the Board, there are two dual roles of the Board.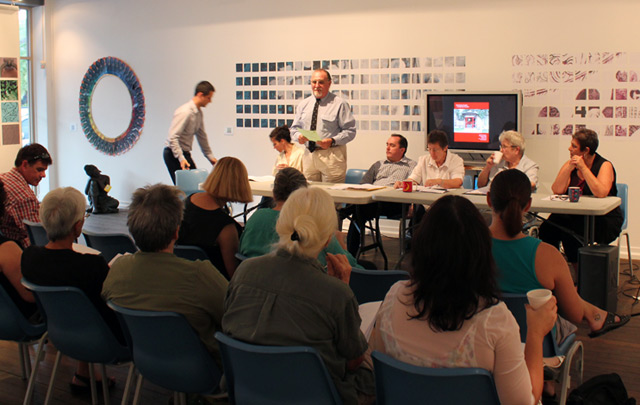 Ensure compliance – Umbrella Studio is accountable to its members, community and funding bodies and complies with legislation such as taxation, work cover, insurance and the meeting of contractual and service obligations.
To improve the performance of the organisation, the Board is charged with overseeing strategy formulation and policy making – and making sure that Umbrella Studio is meeting the purpose for which was formed.
Ensuring the Mission Statement is fulfilled.
There are five key tasks associated with these dual roles:
Develop clear and appropriate goals and plans for the association
Make sure that the service users needs are met in the best ways possible
Make sure the association remains financial
Meeting any legal obligations such as complying with the Associations Incorporations Act, the constitution and any funding agreements
Make sure proper financial management procedures are in place and are followed
The minimum time requirement from Board is to: attend exhibition openings and special events as well as, attend monthly Management Committee Meetings 2 hours x 11, Attend AGM 2 hours in March, attend Strategic planning day scheduled for July lasting approximately 6 hours and attend two sub-committee meetings that last 2 hours.