2019 flooded streets call-out
Umbrella is pleased to announce that this year's Pop Up North Queensland (PUNQ) Festival will feature a new site-specific artwork commissions program that will engage people with 'place' in new and innovative ways.
One of the major site-specific works to be featured this year will be created by Alison McDonald. Alison is a Townsville-based, multi-award-winning sculptor who works with plastics, metal and natural materials to create innovative pieces, and has completed silversmithing and welding courses, also designs and produces jewellery. Since 2000, her works have featured in over sixty group and solo exhibitions, and are held in local and international collections. Alison will create an installation from once highly valued wooden parquetry flooring, degraded by flood, then ripped up and destined for the rubbish bin. Each individual wooden finger has been scraped of glue, sanded, and cleaned in preparation to be laser-cut with street names that flooded in the 2019 Townsville floods.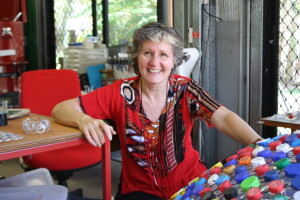 CALL-OUT
This is where we need your help. Alison is collecting the names of streets affected by the floods. In the form below, please add in the street name, suburb and postcode. We will be collating all the information provided here to share with Alison so that she may begin creating her new sculptural piece for this year's PUNQ. It's Alison's hope that 'viewers will identify with this artwork and hopefully find comfort in seeing how many others were also affected by the floods and as future disasters roll on, theirs is not forgotten.' We look forward to welcoming you to PUNQ from 30 July to 8 August 2021. To learn more please see here.