Youth & Education Program
Umbrella presents a dynamic program of creative learning opportunities via guided tours, education resources, artist talks, workshops and public programs. We connect with teachers (including the North Queensland Art Teachers group), students, schools and universities to promote contemporary visual arts in North Queensland. Despite a focus on visual arts, many programs are also cross-curricula – encouraging the connection of ideas, processes, skills and knowledge.
Our education programs are generally free, however some programs (such as YIPs) are funded or subsidised. We also offer paid workshops from time to time, and can run one-off artist workshops to meet your needs and cater to your students. We appreciate if you contact us to book prior to visiting, however we love to support teachers in developing their own visit schedules and activities. We encourage students and youth to visit art galleries as an inexpensive and immersive experience. We also offer free one year youth memberships (read more here) and present professional development workshops for teachers.
YIPs
Read more about YIPs – our Young Indigenous Printmakers program.'
Education Kits
Umbrella's touring exhibitions have educational components. Read them at the links:
Ad Wer: Story of the Stars from Eastern Torres Strait
Legacy: Reflections of Mabo (intended for secondary students studying Visual Arts)
Wanton Wild & Unimagined (intended for years 7-10)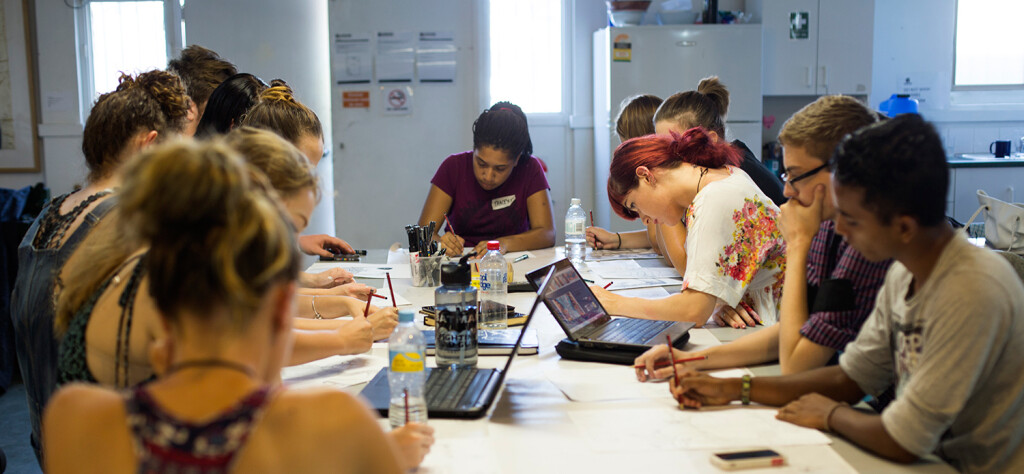 Image: Students participating in a GTM workshop.
Umbrella's education programs aim to:
– encourage students to engage with artworks, concepts and processes in unique and creative ways
– encourage students to describe, analyse, interpret and evaluate artworks
– present meaningful, student-centred learning activities
– present cross-curricula learning opportunities
– connect students and teachers with industry professionals
Umbrella creates education resources to support some local and touring exhibitions. These resources include suggestions for developing tasks and activities and are provided for educational purposes only. To keep up to date with these, along with exhibitions, public programs, Makerspace and exhibition information, sign up to our eNews.
We encourage any feedback to help us improve our programs. To book a school visit or program tailored to your needs, contact daniel@umbrella.org.au or phone 07 4772 7109

Image: students engaging with Emily Donaldson's exhibition Pandanus in the Desert, March 2020.