Annual

Members' Exhibition

SUBMISSIONS HAVE NOW CLOSED FOR 2020. PLEASE CHECK BACK IN EARLY 2021 FOR THE NEXT ENTRY FORM.

One exhibition each year is for our members to participate and display their artwork. This years' Members Exhibition has been scheduled for 20 November – 16 December 2020. For 2020, the timely exhibition theme The Future asks members to be inspired by their own interpretation of the future – whether it is of memories of what they expected 2020 to be like, or current thoughts or concerns about the immediate or long-term future.

The exhibition features a $1000 art prize generously sponsored by Bamford Medical Practice.

Please make sure you read the conditions of entry below – particularly regarding size, date parameters, commission etc.
For 2020, Umbrella Studio is introducing a mandatory image upload section for the form.

You must be a member to participate: click here to join online

KEY DATES

Entries Close

5pm Friday 30 October 2020
EXTENDED: midnight Sunday 1 November 2020SUBMISSIONS HAVE NOW CLOSED
Delivery of Works
Friday 13 November,
Saturday 14 November
or Sunday 15 November


(during Umbrella's regular opening hours)

Exhibition Opening Launch
6pm Friday 20 November 2020
Exhibition Duration
20 November – 16 December 2020
Collection of artworks
Between Thursday 17 – Sunday 20 December 2020
(during regular opening hours)

Complete the form below to submit your entry.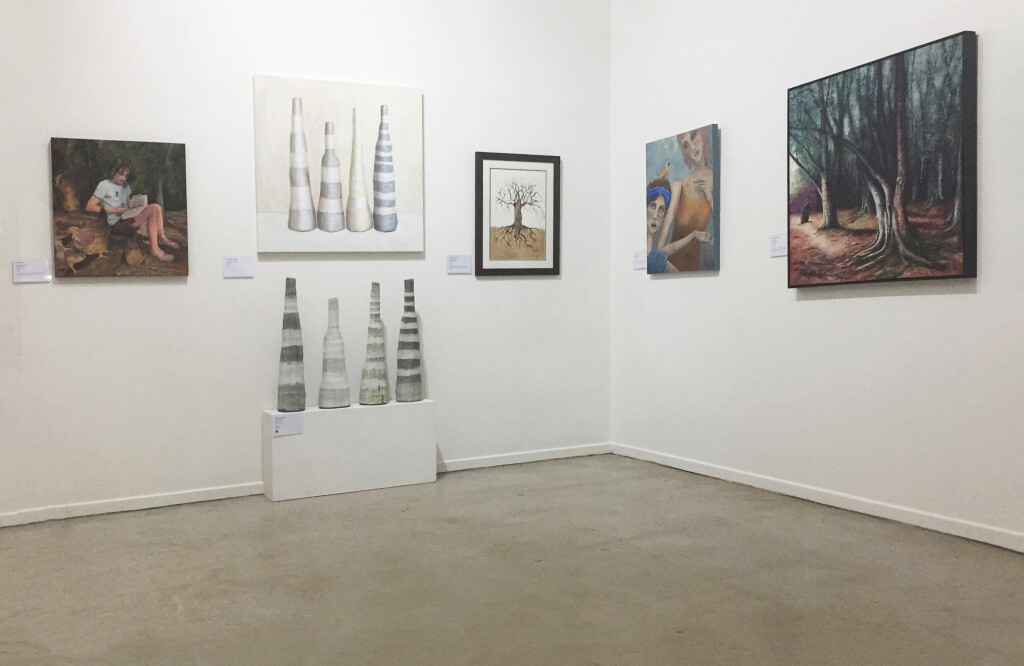 Belonging: 2019 Umbrella Members' Exhibition & Bamford Medical Art Prize room view
CHECK YOUR EMAIL FOR A CONFIRMATION COPY ONCE YOU HAVE SUBMITTED YOUR ENTRY BELOW.

Conditions of Entry
1. All entrants must be financial members of Umbrella Studio for the duration of the exhibition.
2a. A completed Entry Form must be submitted no later than midnight Sunday 1 November2020 to be eligible for the exhibition.
2b. If artists submit multiple Entry Forms, their most recent submission will be accepted as their application. Please limit your submissions though!
3. One entry can be submitted per artist. It must be a singular artwork piece (ie. not a diptych, triptych or one work split over four canvases). It must not be a multiple.
4. Size Restriction: Entries must be no larger than 1.5m x 1.5m x 1.5m in size.
5. Artwork Date Parameters: Entries must have been created in the last two years (2019 or 2020).
6. All hanging entries must be ready for display with "D" rings securely attached, 5-8cm from top of work (or top third of the work for large works). Weight restrictions will apply for heavy hanging artworks – contact Umbrella Studio for more information.
7. Entries must be the original and unaided work of the entrant.
8. Works may be done in any medium but the theme of 'The Future' must be incorporated into the piece.
9. Umbrella Studio reserves the right to not include entries that are not appropriate or that do not fit the conditions of entry.
10. All artworks must be delivered with a label attached clearly identifying the piece and its full artwork details.
11. All artworks must be delivered on Friday 13 November (9am-5pm), Saturday 14 November  (9am-1pm), or Sunday 15 November (9am-1pm) 2020. By prior arrangement with Umbrella staff, works may be accepted prior to these dates.
12. Works must be delivered to Umbrella Studio at 408 Flinders Street, Townsville QLD 4810 (next to Mary Who? Bookshop).
13. Arrangement and expenses pertaining to the delivery and collection of entries are the responsibility of the entrant.
14. If the completed artwork is not received by Umbrella Studio by 12 noon Monday 16 November, the entry may be terminated.
15. No works are to be removed during the exhibition unless authorized by Umbrella Studio. Umbrella retains the sole right to remove any works from the exhibit.
16. Umbrella Studio exercises all due care in exhibiting and handling entries. However, works shall at all times remain at the risk of the entrant. Umbrella Studio will not be responsible for loss or damage whatsoever to any work whilst in its custody. Each entrant is responsible for maintaining their own insurance cover if required.
17. Works will be on display at Umbrella Studio from Friday 20 November – Wednesday 16 December 2020.
18. All works must be collected from Umbrella Studio between Thursday 17 December to Sunday 20 December 2020 (during Umbrella's regular opening hours). Due to storage constraints, if works are not collected by these dates, works may be disposed of at Umbrella's discretion. Works CANNOT be removed Thursday 17 December 2020.
19. If Umbrella Studio sells the work on behalf of the Artist, they will receive a payment less 40% commission. Payment to the artist will be made within 30 days after the artwork collection date. The artist must provide a price for their artwork which takes into consideration Umbrella Studio commission, and GST if applicable. To calculate these rates, see here.
20. The artist grants Umbrella Studio permission to use photos of their artwork for publicity, including images uploaded as part of the entry and those taken by Umbrella Studio.