Creative Kids | Planimals – Karen Williams
Local artist Karen Williams' Creative Kids | Planimals project presents a fun and engaging activity aimed at children 3-11 years old.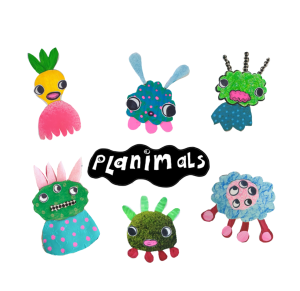 In the short stop-motion video tutorial, Karen teaches children how to use basic art materials to draw, cut, collage and create colourful, quirky, kooky 'planimals' (half-plant, half-animal hybrid) characters. The cut and paste activity will likely take children 30-60mins to complete. Adult supervision is recommended as scissors are required. Feel free to swap out some of the materials if you don't have them, and experiment with what you already have at home. Upcycle and improvise to see how fantistcal (plantastical?) your planimals can become! The more shapes and drawings you make, the more diverse your finished characters can be!
Download the planimals instructions. | Draw your own planimals shapes, or download the template shapes.
OR VISIT UMBRELLA 2-12 JULY 2020 TO ACCESS ALL THE MATERIALS & COMPLETE THE ACTIVITIES.
Share your planimals on Instagram or Facebook with the hashtag #UmbrellaPlanimals
Fun Planimals Facts:
Scientists have discovered life forms such as sea anemones, coral and algae, which have DNA of both plant and animal; defying categorisation, these have been dubbed 'planimals'. The Planimals project stems from artist Karen Williams' ongoing work Curious Garden (working title). Her projects are inspired by the reef and other richly biodiverse natural systems. Corals, sea anemone and algae of both plant and animal origins defy categorisation and in this way illuminate the magical mystery and curious nature of our planet. Karen has been developing Curious Garden for a few years, transforming many types of media, materials and by-products of domestic life into imaginary plant-animals and plant-animal forms, culminating in a fantastical, imaginary eco-system or "world".
Planimals are seasonal inhabitants of this world. Planimals dont like the term 'monsters', as that has negative associations.
Commissioned by Umbrella Studio Contemporary Arts through Creative Kids, this project receives generous support from the Regional Arts Development Fund. RADF is a partnership between the Queensland Government and the Townsville City Council to support local arts and culture in regional Queensland. Creative Kids is Umbrella's program for children aged 3-11 years old. It encourages children to let their imaginations run wild and to experiment with a range of materials and techniques.