Hidden Marks
"My name is Nigel Matejcic. I paint marks as a form of unconditional love." Umbrella's first Creative Sparks commission was led by Nigel Matejcic, delivering a site-specific art project, Hidden Marks. From a hidden room in Umbrella's new building, the project was live-streamed to Umbrella's audience on our Instagram page @umbrellastudiotsv 10am-3pm Saturday 20 June. The stream was recorded as a film of the work's creation and has been time-lapsed from around 3 hours (plus breaks) to 2.5mins.
The resultant artwork is on display 26 June – 9 August 2020 (with limited accessibility).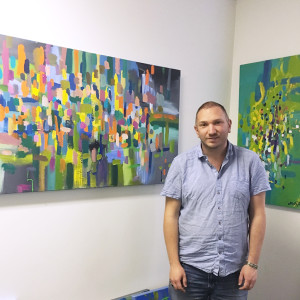 Nigel Matejcic is an emerging artist. He holds a Certificate 3 in Visual Arts from TAFE Pimlico and has been practising for over five years. The artists career highlights include having his work shortlisted in the 2019 Footscray Tertiary Art Prize, and exhibiting and selling artworks at The Changing Canvas, Glenelg, Adelaide and in Umbrella's 2019 Pop Up North Queensland (PUNQ) festival.
Commissioned through Creative Sparks, this project receives generous support from the Regional Arts Development Fund. RADF is a partnership between the Queensland Government and the Townsville City Council to support local arts and culture in regional Queensland.