Creative Kids | Rare & Wild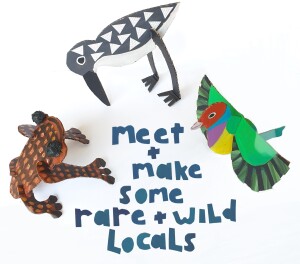 Local artist Karen Williams' Creative Kids | Rare & Wild project presents a fun and engaging activity aimed at children 3-11 years old. In this activity and template kit, Karen helps children to discover and get to know some of Townsville and North Queensland's rare and endangered wildlife while creating fun cardboard characters. Children can choose to make a mobile or 3D standing figures, or just have fun colouring. Use the templates along with cardboard and materials you have at home, then finish off your animals with collage, colour or paint.
Adult supervision is recommended as scissors are required. Feel free to swap out some of the materials if you don't have them, and experiment with what you already have at home. Download the instructions here and watch the video below:
Then download the set of templates below and print as A4 pages to make 3D standing animals, or articulated animals with moving limbs. Alternatively, visit Umbrella 12-19 December 2020 to access materials and complete the activities in person. Full details here: Rare & Wild (Free Self-Guided Kids Activities)
Commissioned by Umbrella Studio Contemporary Arts through Creative Kids, this project receives generous support from the Regional Arts Development Fund. RADF is a partnership between the Queensland Government and the Townsville City Council to support local arts and culture in regional Queensland. Creative Kids is Umbrella's program for children aged 3-11 years old. It encourages children to let their imaginations run wild and to experiment with a range of materials and techniques.