Volunteer
Umbrella is committed to involving its members, artists, students and other interested people from the community in both our daily and long-term activities. Opportunities exist for individuals to participate as volunteers in all areas of Umbrella's operations, thus receiving valuable industry experience and professional guidance in all aspects of contemporary visual arts. We are particularly looking for friendly administration / reception volunteers who can greet visitors in our new gallery. We are also looking for people to fill in as on-call / backup volunteers – for when our regular volunteers are sick or unable to attend shifts. From time to time Umbrella Studio also accepts interns and trainees.
Umbrella is also calling for volunteers for our North Australian Festival of Arts (NAFA) exhibition offerings and our PUNQ Festival. We are looking for enthusiastic, reliable volunteers for May and June training, and more intensive periods in July and August for volunteering. Don't miss these great opportunities to volunteer for nationally recognised artists at our upcoming NAFA exhibitions, Yana Gair Le – Walk Together and Mel O'Callaghan's Centre of the Centre during July and August (more details below).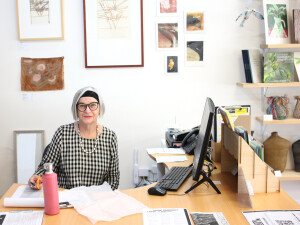 Volunteering is a great way to engage regularly with our art and creative projects, boost your network, make new friends and learn new skills. We offer a supportive environment, inductions and ongoing training. There are additional benefits for volunteering with our NAFA exhibitions and PUNQ 2021:
– Specialist mediators from UQ Art Museum will be on site to present a mini workshop to volunteers about Centre of the Centre and share the principles and practical tools of cultural mediation. Cultural mediation is an emerging practice that can help museum and gallery staff and volunteers develop a vocabulary to talk about the themes and ideas raised by exhibitions and collections with the local community, to simply provide fodder for conversation, and allow meaningful connections, stories, experiences and ideas to lead interaction between the exhibition, the gallery, and its public.
– Work with nationally recognised artists
– Be part of a regional arts festival with a growing audience
– Be part of a festival that is growing the audience and recognition of North Queensland as an arts cultural destination
– Be part of a network of artists, arts organisations and businesses
– Enhance your resume with experience working in tourism & events, marketing and visual arts
These will be competitive positions so we encourage getting your interest and CVs in early. Apply via the form at the bottom of this page.
Yana Gair Le – Walk Together (NAFA) | Friday 9 July – Sunday 29 August 2021
This exhibition brings together contemporary works by First Nations artists from Countries and Seas across Australia who reside in North Queensland. In the language of the Gurambilbarra Wulgurukaba people, Traditional Owners of Townsville, 'yana' means 'walk'. In Meriam Mer, the language Mer (Murray Island) people, 'Gair Le' means 'together'. In this exhibition Aboriginal and Torres Strait Island artists 'yana gair le' – walk together.
Mel O'Callaghan – Centre of the Centre (NAFA) | Friday 9 July – Sunday 29 August 2021
'Centre of the Centre' is a major new commission by Australian-born, Paris-based contemporary artist Mel O'Callaghan that traces the origins of life and its regenerative forces, iterated through video, performance and sculpture. Centre of the Centre plunges audiences 4km below the surface in the Pacific Ocean to encounter fascinating lifeforms in extreme environments, pushes the material boundaries of glass, and reveals how breath can create both calm and excitement through depth and rapidity of inhalation and exhalation.
Mel O'Callaghan's Centre of the Centre was curated and developed by Artspace and is touring nationally with Museums & Galleries of NSW. Centre of the Centre is co-commissioned by Le Confort Moderne, Poitiers; Artspace, Sydney; and The University of Queensland Art Museum, Brisbane. With Commissioning Partners Andrew Cameron AM & Cathy Cameron and Peter Wilson & James Emmett; and Lead Supporter, Kronenberg Mais Wright. The development and presentation of Centre of the Centre is supported by the Fondation des Artistes; Woods Hole Oceanographic Institution and the US National Science Foundation. This project has been assisted by the Australian Government through the Australia Council for the Arts, its arts funding and advisory body.

Image above: Umbrella volunteer Alison Nicholas, March 2021. | Please note: Umbrella is responding to government restrictions at this time and volunteers and visitors must comply with our COVID-19 Safety Plan. 
Apply to Volunteer
We would be delighted to have you register  your interest to assist as an Umbrella Volunteer.  Please complete the Volunteer Application form below, or Contact Umbrella for more details.