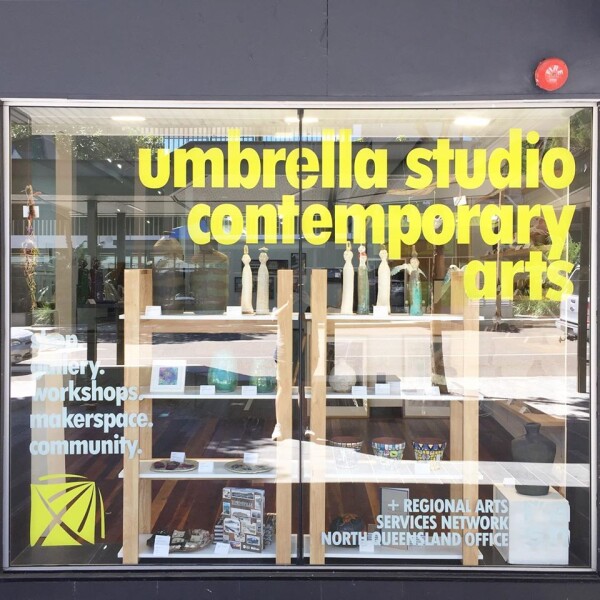 Membership
MEMBERSHIP RENEWALS ARE CURRENTLY OFFLINE – We are transitioning to a new website and will update you with new links to join or renew.
Umbrella is a not for profit members based contemporary visual arts organisation located in Townsville North Queensland; one of the few located outside of a capital city. We offer a program of exhibitions, multi-media, performance art, workshops, artist talks and associated events. Umbrella also provides industry advocacy policies and planning as well as assisting state and federal agencies to engage directly with contemporary visual artists.
Our growing membership is made up of artists, curators, writers, and a diverse range of arts lovers from our region, around Australia and overseas.
Benefits
By becoming a member of Umbrella, you will enjoy the following benefits:
Access to purchase exclusive annual Print Commission at members' pricing
Participate in our annual Members' Exhibition
10% off framing at Top Frames picture framers
Ability to join the Umbrella Makerspace Access Group (for an additional fee)
Voting rights at our Annual General Meeting
Be a part of a leading community based contemporary arts organisation
Issues of our eNewsletter which includes invitations to all exhibition openings, workshops, artist talks and events
Eligibility to exhibit at Umbrella Studio Contemporary Arts
Potential inclusion on the Umbrella Board
Access to professional support services including auspiced grants
Reasonable rates for venue hire and hiring the printing presses and Makerspace
Annual membership fees (inclusive of GST), for various categories, are:
Individual – $50 per year
Student / Concession – $40 per year
From: $40.00 inc. GST for 1 year Out of Stock